The U.S. Chess Trust is a Proud Sponsor of this tournament!!
The Denker Tournament of High School Champions
UTD Scholarship goes to Michigan Player

By Dewain Barber

Congratulations go to Atulya Shetty (MI) for winning the UTD Scholarship. His draw in the last round with Darwin Yang (TX) created this year's Denker Co-Champions result, Shetty (MI) and Yang (TX). Third through Fifth was a tie between Sam Schmakel (IL), Michael Brown (CA-S), Deepak Aaron (NY), and Kevin Bu (MN). The $500 Ursula Foster Award was won by Darwin Yang (TX), Best Game was awarded to Eldon Nakagawa (HI) and Top Upset congratulations go to Carl Steele (ND).

I would like to thank GM Yasser Seirawan for attending the Closing Ceremony and presenting awards.

Our event next year will be in Madison, WI at the next US Open.
Click Here for Tournament Results 
Scholarship Details
The Denker Tournament of High School Champions is proud to announce that the University of Texas at Dallas (UTD) has once again given a scholarship to be awarded to the winner of the 2012 Denker tournament. This scholarship covers complete cost of tuition and mandatory fees through eight semesters (four years) of enrollment. In addition, the Chess II Scholarship provides a $1500 per semester contribution toward rental expenses incurred at university on-campus housing. The Chess Program Scholarship guidelines apply with regard to GPA requirements and probation. The scholarship is valued at $68,000 for an out-of-state student. UTD has been a leader in the promotion of Scholastic Chess for many years. You can see their campus and chess program at the following locations: www.utdallas.edu and www.chess.utdallas.edu/.
Also check out the video (above) of the UTD Chess Team. This will give you a look into what UTD is all about and what players can expect when they attend UTD. The eligible winner, decided by tie-breaks, must meet UTD entry requirements and have been in grades 9-11 during the previous spring.
Sponsors
Mitchell Denker, The U.S. Chess Trust and the National Scholastic Chess Foundation will award a total of $2200 in Scholarships (1st place: $800, 2nd place $500, 3rd place $300, 4th place $300 and 5th place $300). Scholarships are designated for college expenses and will be sent to winners only upon proof of college enrollment (copies of paid bills, or official letters, etc.) by the Chess Trust. In some cases, prizes will be held in escrow pending receipt of paper documentation. Each participant will receive a Gold Medallion provided by American Chess Equipment, Inc.
There will also be a $500 Ursula Foster scholarship awarded by the Chess Trust to the highest finisher who is under the age of 16 on the first day of the tournament. If less than two participants are under 16, then the scholarship will go to the top participant under 17. Two or more players must be in the lowest age qualified group.
Denker Co-Chair:
Dewain Barber
524 S. Avenida Faro
Anaheim, CA 92807
(714) 998-5508
FAX (714) 998-1160
E-Mail: AmChessEq@aol.com
www.denkerchess.com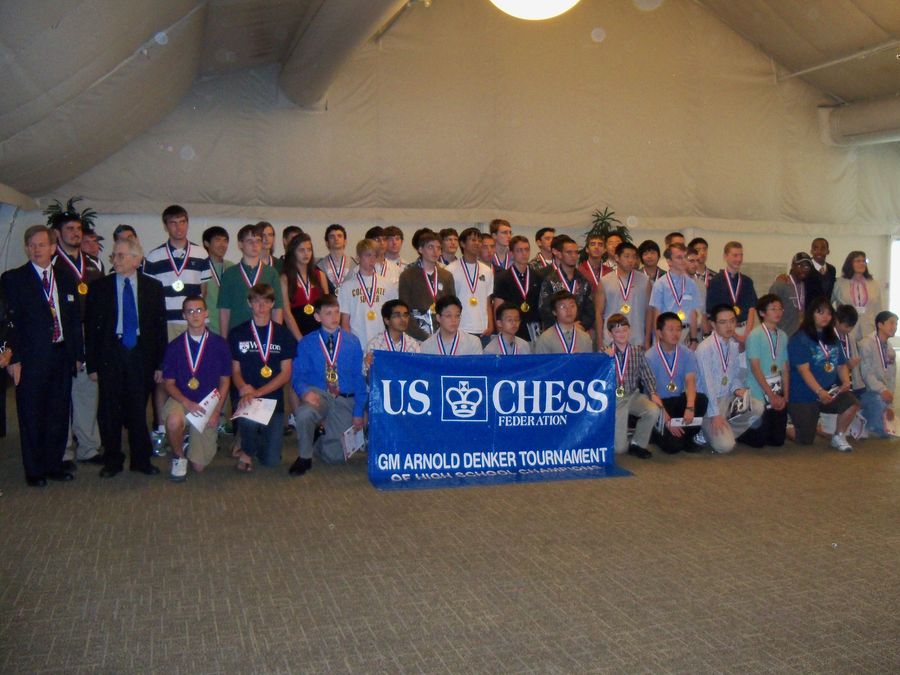 GM Arnold Denker: The Legacy
The Denker Tournament of High School Champions turned twenty-five years old this last August. I paused to reflect on how this event has evolved because at the start there wasn't even a site picked. GM Denker simply said to me when he called one evening many years ago, "I want to do something for the kids." At first, I thought he was simply going donate his time to do a simultaneous exhibition or volunteer to pass out trophies at one of the Nationals. But as it turned out, it was a whole lot more than I expected.
First, it was the idea of selecting deserving players who would want to travel to an event. He then provided an idea or two suggesting an event that brought together every state high school champion. But, would it be the highest rated player who qualified? Would it be based on age or something else?
As it turned out the decision we agreed upon was to invite the champions from the high school tournaments of each state to play.  But, when? Since I was acquainted with the scholastic schedule, I knew that many of the months that might be considered would be out. The fall was the start of school year, the winter would present problems with travel, and the spring was devoted to competing in state events and the Scholastic Nationals. The end result was a decision by both of us that the summer would work. But, where? There were few scholastic events in the summer available, and most families were on summer vacation. This would mean starting a new event with no support. Arnold suggested the US Open as a possible site. He had been US Champion and had played in the US Open for many years so it seemed a possibility. The US Open was a very prestigious event with many strong players at all levels and ages wanting to compete so the fundamental question was, "Would the US Chess Federation accept a bunch of high school kids playing at their event?" Maybe yes, maybe no.
I mentioned to GM Denker that there were several committees that needed to review this, and any one of them could say no. As it turned out there was moderate interest in the idea, but I sensed it would take more than moderate interest to get it passed by the USCF Delegates and accepted. I had truly forgotten that I was dealing with one of the most charismatic and dynamic persons to ever push a pawn. GM Denker stepped forward and made the case with many of his long time friends that this event would be good for the kids and good for chess. The case was made and the vote was to approve.
That was all good and fine, but what were the rules and who would decide when it came to the issue of qualifications. I mentioned to GM Denker that I would try to write some rules and he stated he would provide a stipend of $100 to each participant.
The early years saw just over half of the states attending with many states not even bothering to return messages to the USCF Scholastic Director. I wondered if this event was ever going to get at least two-thirds of the states and maybe help support a young man who wanted to become a GM.
Several times I would contact a high school state champion and the word was, "The Denker event does not have any strong players and I have other things to do during the summer."
At this point, it was very much like the film about baseball: "If you build it they will come." And sure enough they did, and the state count began to rise because GM Denker kept up the positive enthusiasm needed to move this event forward. He always had a smile and a kind word to say to the players with interesting stories and a sense of humor flowing through the conversation. The man was magnetic, had the joy of living, and funny chess stories that kept the gathering alive.
He gained support from the University of Texas at Dallas (UTD) who provided a scholarship. Texas Tech has also supported the event and so has the U.S. Chess Trust.
One time he said to me, a few years before his death, that that he was going to change the name of the event. I was surprised at the thought, but he said, "Let's change it."
I said, "No, absolutely not. You have created a legacy that will be continued and appreciated by all the chess players who see the event, follow the results, and cheer on their champions." I knew he was just kidding, but I am happy for what has been accomplished and that Mitchell Denker, his son, came on board a short time ago when GM Denker passed away and has continued that same enthusiasm.
It is with great pleasure and reverence that I say it has been an honor to meet and greet the young people who can proudly say, "I played in the Denker!" It is a legacy that the entire chess community can be proud of. As we move into the next quarter century, it will continue to shine as an example of the best we can offer from Alaska to Maine, Michigan to Texas, Florida to Hawaii and from California to Virginia. I say from the deepest part of my heart: "Thank you, Arnold, for the legacy you have bestowed upon the chess community."